When should children have an eye exam?
According to the American Optometric Association (AOA), infants should have their first comprehensive eye exam at 6 months of age. Children then should receive additional eye exams at 3 years of age, and just before they enter kindergarten or the first grade at about age 5 or 6.
A pediatric eye examination by our Optometrists includes:
Evaluation of vision and ocular health
Eye teaming (binocularity) skills
Eye movement skills
Focusing skills
Evaluation for amblyopia (or "lazy eye")
Evaluation for strabismus (or eye turn)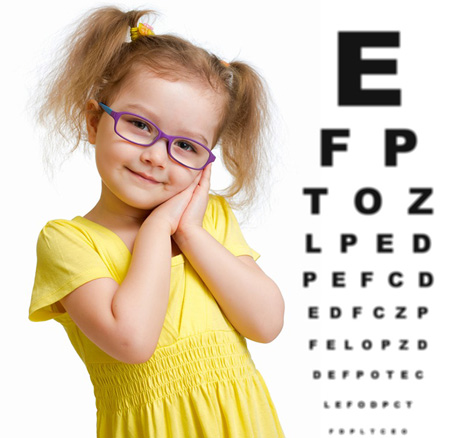 For school-aged children, the AOA recommends an eye exam every two years if no vision correction is required. Children who need eyeglasses or contact lenses should be examined annually or according to their eye doctor's recommendations. It's important for parents to make sure their children's eyes are healthy. Approximately 80 percent of all learning during a child's first 12 years comes through vision.
Good eye health and vision is important to your child's learning, and vision problems can affect their performance in school. Undetected or untreated vision problems can hinder a child's ability to perform to their full potential in school. In fact, many eye diseases can impair vision or lead to vision loss, which is why it is important for people of all ages to have their eyes checked regularly.
At least 10 to 15 percent – or 8 to 12 million – children are at risk for vision impairment. Prevention of these conditions can be easy and can help your student perform his or her best at academics and sports, so schedule your child's eye exam today! While you're at it, schedule your own exam too!
Summary of Services
Comprehensive Eye Exam – complete evaluation of the visual system and ocular health including dilation (dilation is performed at least every other year)
Pediatric Comprehensive Eye Exam – complete evaluation of the visual system and ocular health including dilation beginning from six months of age. Eye exams for children are very important because vision problems are often related to poor school performance.
Contact Lens Fittings – for all types of contact lenses including specialty contact lenses available for astigmatism, presbyopia (the loss of reading vision after age 40-45 years old), and keratoconus (a progressive disease in which the cornea thins and becomes irregularly shaped).
Specialty Contact Lenses – supply any and all types of contact lenses available on the market.
Cataract Surgery Care – perform pre-operative and post-operative care following cataract surgery.
Digital Retinal Imaging – documentation of eye conditions that need to be monitored for changes over time.
Glaucoma Testing – diagnosis, management and treatment of glaucoma, called the "silent thief of vision" because it has no symptoms until its later stages when vision is already lost.
Lasik Surgery – perform pre-operative exam to evaluate if you are a good candidate and post-operative care following Lasik surgery.
Macular Degeneration Management – monitor progression and evaluate if treatment is necessary. Research indicates certain vitamins and minerals may help prevent or slow the progression of macular degeneration.
Eye Emergencies – including red eyes, injuries and sudden symptoms requiring evaluation and treatment.
Dry Eye Disease – evaluation and treatment such as punctal plugs, prescription drug treatments, IPL treatment, and monitoring.
Surgical Consultation and Post-Operative Eye Care Treatment – for cataracts, strabismus, corneal transplants, retinal detachment, Lasik, PRK, and Epilasik and others.
Frame and Lens Service – prescribe and fill prescriptions for prescription glasses, reading glasses, sunglasses, and specialty glasses for hobbies and occupational needs.