Our Optometrist can help you find the best contact lenses for your lifestyle.
New advances in contact lens technology allow most people to successfully wear contact lenses-even those with astigmatism or bifocal requirements. You'll quickly recognize that we go beyond the "one size fits all" approach to contact lenses and we understand the importance of personal attention when it comes to your vision and comfort.
Alabama Family Eye Care will work with you to determine the best type based on your lifestyle, the shape and health of your eye. In most cases, you'll be able to leave with lenses on the same day as your exam. We'll teach you how to place the lenses in your eye as well as how to remove them. This is often the most intimidating part of trying contact lenses for the first time. Our staff is patient and knowledgeable to walk you through it all step by step.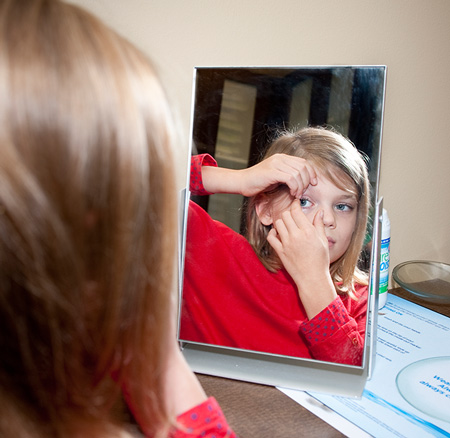 A routine exam won't provide some of the measurements and testing that are required to determine if your eyes are suitable for contact lens wear and to generate your contact lens Rx.  We carefully examine the structures of your eye as well as your history of conditions such as dry eye and allergies.  We also have instrumentation to show us the shape and curvature of your corneas to insure that we determine the best fit of your contact lenses.  Not all lenses fit everyone the same way, and a poor fit can cause problems with comfort, vision, and eye health.  Part of our job is to help your future vision, not just your present vision.  We want your eyes to be healthy for many years to come.
A good contact lens fit starts with a thorough eye exam to ensure the most up-to-date prescription and rule out any pre-existing conditions that could interfere with contact lens wear or put you more at risk for complications due to wearing contact lenses.
After the initial fitting, we follow up with you and make any necessary changes in fit or materials to give you the best comfort and vision. We teach all our patients proper contact lens care and also possible consequences if proper care is not taken. Then we continue with long-term follow up at least yearly to monitor the condition of the lenses, eye health and to ensure that proper hygiene is being maintained to prevent complications.
Our doctors will thoroughly evaluate your visual needs, prescription, and long term eye health to determine which brand and type of contact lens combines for you the most convenient, comfortable, and healthy contact lenses available.
Essilor Jupiter Scleral GP lenses
If you have been told you can't wear contact lenses let us see if we can help. At Alabama Family Eye Care we have the expertise necessary to get you seeing your best.
Indications for the Essilor Jupiter Lens:
 Regular and irregular corneas unable to be adequately fit with small diameter corneal lenses.
 Symmetrical corneas where standard lenses cannot offer the stability or comfort.
 Asymmetrical corneas that require a larger than standard lens but a full scleral design is too large.
GP intolerant patients unable to achieve adequate vision with soft lenses Hybrid lens candidates.
Benefits of Essilor Jupiter Scleral lenses:
Has proven successful for the correction of many corneal irregularities including postsurgical cases.
Fits well in cases of corneal flattening inserts to offer good VA and comfort unsurpassed with soft lenses.
Provides initial comfort that lasts all day long.
JupiterTM lens can be designed to meet almost any patient need.
Silicone Hydrogel Lenses
Another category of lenses that are fairly new to the market are the silicone hydrogel lenses. These lenses can provide many times more oxygen to the eyes compared to other category of lenses. These lenses are actually providing some patients with a second chance to remain in soft contact lenses. If there is a significant risk of failing ocular health due to lack of oxygen to the cornea, then these lenses may provide the needed oxygen and therefore may extend a patient's ability to remain in soft lenses.
Bifocal & Multifocal Contact Lenses
Just as the name indicates, bifocal lenses are divided into two distinct segments for different vision powers, the first for distance vision and the second for near vision. This enables you to clearly switch your focus from near to far as needed, but your vision will not necessarily be clear in between. The term multifocal lenses can refer to any lenses with multiple powers including bifocals, trifocals or progressive lenses. Non-bifocal multifocal lenses have a range of powers that enable you to constantly adjust your focus to see clearly from up close to far and in between.
Synergeyes Lenses
If the options above do not provide the vision or comfort levels needed to be a successful contact lens wearer, then we also have a hybrid lens called Synergeyes. This lens provides the good vision of a hard lens with comfort more similiar to that of a soft lens. It is design with a hard center to provide good vision, but has a soft skirt around it giving it more of a soft feel. This lens comes in a few designs, including Multifocals, Astigmatism, Keratoconus and Post Surgical lenses. To learn more you can visit their website at www.synergeyes.com.
RGP Lenses
For those patients that have had a difficult time finding lenses that provide good enough vision for their lifestyle, there are RGP or "hard" contacts. These lenses do provide better vision in most cases, but are usually a bit more diffcult to adjust to comfort wise. There are many patients in these lenses that are completely happy and unwilling to switch to soft contact lenses.
Hybrid Lenses
Hybrid contact lenses combine the visual clarity and therapeutic aspects of Gas Perm lenses with the comfort of Soft Lenses.
Corneal Refractive Thearapy (CRT)
Corneal Reshaping with CRT Contact Lenses can be an ideal vision correction method for active children, especially those involved in sports, or children who are genetically prone to having their nearsightedness progress year after year. The principle is similar to the use of a dental retainer used by an orthodontist to realign crooked teeth. The vision retainers are similar to contact lenses and are only worn at night while sleeping. They are then removed upon awakening to provide clear vision without using glasses or contact lenses! The retainers are comfortable and very easy to care for.  CRT does not work on everyone and needs to be performed in a very exact and meticulous manner.
Toric Contact Lenses for Astigmatism
Toric contact lenses are designed to correct astigmatism and custom made to fit the eye of the patient. Rather than having a perfectly spherical surface like standard contact lenses, toric lenses have a more oblong shape made to accommodate the shape of the astigmatic eye. Toric lenses can be made of either soft or rigid gas permeable (RGP or GP) lens material, however the soft toric lenses are more common.
Toric contact lenses are also designed in such a way that the lenses stay in place on the eye to maintain proper vision. Sometimes as the eye moves or blinks the lens can rotate considerably on the eye. If this rotation continues with a soft toric lens, a rigid gas permeable lens might be more effective. Rigid gas permeable lenses have a longer initial adjustment time, but once this has passed they are usually just as comfortable as soft contact lenses and they are often easier to care for.
Some of the most popular soft contact lens brands available today are:
*Cannot Use Insurance Benefits Online
We fit contact lenses from all the major manufacturers including, but not limited to:
CooperVision (Biofinity, Frequency)
CibaVision/Alcon (Air Optix, Air Optix Night and Day)
Vistakon/Johnson & Johnson (Acuvue)
Bausch + Lomb (Pure Vision, SofLens, Optima)
Summary of Services
Comprehensive Eye Exam – complete evaluation of the visual system and ocular health including dilation (dilation is performed at least every other year)
Pediatric Comprehensive Eye Exam – complete evaluation of the visual system and ocular health including dilation beginning from six months of age. Eye exams for children are very important because vision problems are often related to poor school performance.
Contact Lens Fittings – for all types of contact lenses including specialty contact lenses available for astigmatism, presbyopia (the loss of reading vision after age 40-45 years old), and keratoconus (a progressive disease in which the cornea thins and becomes irregularly shaped).
Specialty Contact Lenses – supply any and all types of contact lenses available on the market.
Cataract Surgery Care – perform pre-operative and post-operative care following cataract surgery.
Digital Retinal Imaging – documentation of eye conditions that need to be monitored for changes over time.
Glaucoma Testing – diagnosis, management and treatment of glaucoma, called the "silent thief of vision" because it has no symptoms until its later stages when vision is already lost.
Lasik Surgery – perform pre-operative exam to evaluate if you are a good candidate and post-operative care following Lasik surgery.
Macular Degeneration Management – monitor progression and evaluate if treatment is necessary. Research indicates certain vitamins and minerals may help prevent or slow the progression of macular degeneration.
Eye Emergencies – including red eyes, injuries and sudden symptoms requiring evaluation and treatment.
Dry Eye Disease – evaluation and treatment such as punctal plugs, prescription drug treatments, IPL treatment, and monitoring.
Surgical Consultation and Post-Operative Eye Care Treatment – for cataracts, strabismus, corneal transplants, retinal detachment, Lasik, PRK, and Epilasik and others.
Frame and Lens Service – prescribe and fill prescriptions for prescription glasses, reading glasses, sunglasses, and specialty glasses for hobbies and occupational needs.