Why schedule your next eye exam with us?
At ​, our Eye Doctors and our entire optometry team are committed to providing advanced vision care in a professional and comfortable environment. As optometrists in , our primary eye care service includes a complete eye exam that analyzes eye health and vision function. In addition to eye exams and vision testing, and our team of optometry professionals provide testing for diabetic eye disease, glaucoma, cataracts and macular degeneration. Our optometrists also offers eyeglasses, contact lenses, and pre- and post-operative care.
The visual system is a delicate and complicated part of the human anatomy. All parts of the eye and many parts of the body affect your ability to see correctly. In our comprehensive eye exam, the health of your eyes is fully evaluated. Just as you have a Primary Care doctor for you overall health, it's important to have a Primary Eye Care physician. Your eye health goes beyond a simple vision test; primary eye care includes a comprehensive vision screening and eye health examination. It is recommended that you have a comprehensive eye exam every one to two years.
caters to the individual needs of each patient with well trained staff members who provide personalized attention. We do much more than just check your vision and provide you with eyeglasses. We provide comprehensive eye care and full treatment and management of eye conditions in order to ensure internal and external eye health and correct vision. We find that our extensive use of technology and highly trained staff allows the doctors at ​ to spend more one-on-one time with our patients.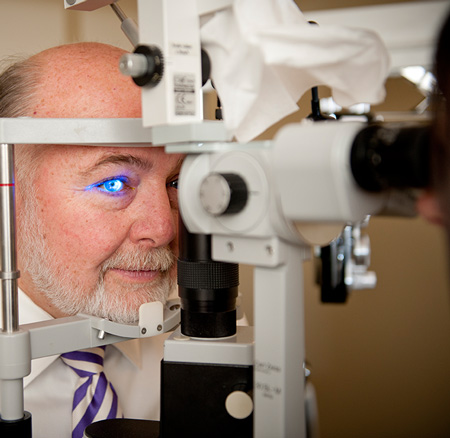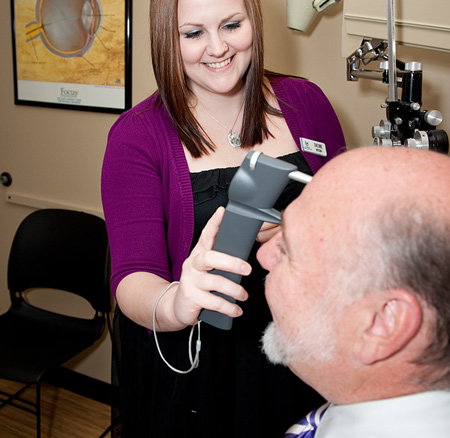 We Provide Diagnosis and Treatment of:
Glaucoma
Cataracts
Macular Degeneration
Diabetic Eye Disease
Dry Eye
Conjunctivitis (Pink Eye and Infections)
Corneal Abrasions
Seasonal Allergic Eye Problems & Eye Injuries
among other eye problems.
What you should expect in a comprehensive eye exam:
Vision evaluation
Testing for glaucoma, cataracts, macular degeneration, and other retinal diseases or disorders
Screening for diabetes, high blood pressure, and other systemic health conditions
Tests for peripheral vision, intraocular pressure, and eye health
You will find that your eye examination is a pleasant and interesting experience. Based on modern optometric techniques, the examination consists of a series of tests integrated with each other that allow us to observe and measure your eyes with your active participation. Additional tests will be performed to assess the muscular balance of your eyes; how well your eyes work as a team, and how well your eyes focus.
At the conclusion of the exam, we will explain the results of the tests and make recommendations for any needed preventative or remedial vision care.
When you visit our office, you will leave knowing you have had a comprehensive vision and eye health examination by experienced and caring professionals
Our full range of vision services include examination of children and adults, contact lens fitting of all types, and co-management of laser and cataract surgery.
Summary of Services
Comprehensive Eye Exam – complete evaluation of the visual system and ocular health including dilation (dilation is performed at least every other year)
Pediatric Comprehensive Eye Exam – complete evaluation of the visual system and ocular health including dilation beginning from six months of age. Eye exams for children are very important because vision problems are often related to poor school performance.
Contact Lens Fittings – for all types of contact lenses including specialty contact lenses available for astigmatism, presbyopia (the loss of reading vision after age 40-45 years old), and keratoconus (a progressive disease in which the cornea thins and becomes irregularly shaped).
Specialty Contact Lenses – supply any and all types of contact lenses available on the market.
Cataract Surgery Care – perform pre-operative and post-operative care following cataract surgery.
Digital Retinal Imaging – documentation of eye conditions that need to be monitored for changes over time.
Glaucoma Testing – diagnosis, management and treatment of glaucoma, called the "silent thief of vision" because it has no symptoms until its later stages when vision is already lost.
Lasik Surgery – perform pre-operative exam to evaluate if you are a good candidate and post-operative care following Lasik surgery.
Macular Degeneration Management – monitor progression and evaluate if treatment is necessary. Research indicates certain vitamins and minerals may help prevent or slow the progression of macular degeneration.
Eye Emergencies – including red eyes, injuries and sudden symptoms requiring evaluation and treatment.
Dry Eye Disease – evaluation and treatment such as punctal plugs, prescription drug treatments, IPL treatment, and monitoring.
Surgical Consultation and Post-Operative Eye Care Treatment – for cataracts, strabismus, corneal transplants, retinal detachment, Lasik, PRK, and Epilasik and others.
Frame and Lens Service – prescribe and fill prescriptions for prescription glasses, reading glasses, sunglasses, and specialty glasses for hobbies and occupational needs.