If I'm seeing fine, why do I need an Eye Exam?
Glaucoma, cataracts, and age-related macular degeneration are just a few of the common eye diseases which affect older patients.
Even if your vision is fine, annual eye health exams can detect eye and systemic diseases in the early stages when it is easier to prevent vision loss. Help maintain quality of life with good eye care.
People with diabetes, high blood pressure, rheumatoid arthritis and taking certain medications are especially at risk for eye diseases and vision loss.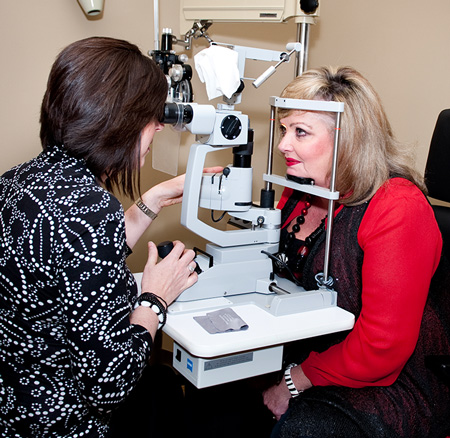 Everyone wants to protect the eyesight and overall health for themselves and their loved ones – that is why annual eye exams are important. Regular eye care and exams can protect and prevent many eye diseases, if detected early. Today, a whole range of eye problems can be treated successfully without total vision loss.
Many vision problems can begin at an early age too, so it's important for children to receive proper eye care from the time they are infants.
Summary of Services
Comprehensive Eye Exam – complete evaluation of the visual system and ocular health including dilation (dilation is performed at least every other year)
Pediatric Comprehensive Eye Exam – complete evaluation of the visual system and ocular health including dilation beginning from six months of age. Eye exams for children are very important because vision problems are often related to poor school performance.
Contact Lens Fittings – for all types of contact lenses including specialty contact lenses available for astigmatism, presbyopia (the loss of reading vision after age 40-45 years old), and keratoconus (a progressive disease in which the cornea thins and becomes irregularly shaped).
Specialty Contact Lenses – supply any and all types of contact lenses available on the market.
Cataract Surgery Care – perform pre-operative and post-operative care following cataract surgery.
Digital Retinal Imaging – documentation of eye conditions that need to be monitored for changes over time.
Glaucoma Testing – diagnosis, management and treatment of glaucoma, called the "silent thief of vision" because it has no symptoms until its later stages when vision is already lost.
Lasik Surgery – perform pre-operative exam to evaluate if you are a good candidate and post-operative care following Lasik surgery.
Macular Degeneration Management – monitor progression and evaluate if treatment is necessary. Research indicates certain vitamins and minerals may help prevent or slow the progression of macular degeneration.
Eye Emergencies – including red eyes, injuries and sudden symptoms requiring evaluation and treatment.
Dry Eye Disease – evaluation and treatment such as punctal plugs, prescription drug treatments, IPL treatment, and monitoring.
Surgical Consultation and Post-Operative Eye Care Treatment – for cataracts, strabismus, corneal transplants, retinal detachment, Lasik, PRK, and Epilasik and others.
Frame and Lens Service – prescribe and fill prescriptions for prescription glasses, reading glasses, sunglasses, and specialty glasses for hobbies and occupational needs.